Have you been searching for service that does picture framing that fits your budget? Maybe you missed looking us up in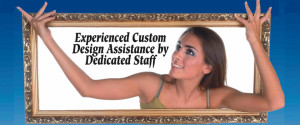 Boca Raton. As one of the best picture framing service, we don't charge you exorbitant prices that seem to break the bank. With cost effective and affordable pricing, our picture framing fit your budget and give you years of wonderful memories of the art work or memorabilia that you got framed.
Not only do you want the children's drawing to the expensive sports memorabilia framed but it ensures that your precious memories and items are well protected for the years to come. Whether you want to hang it on the wall or put it on the mantle, we do a professional job each time it is needed.
Affordable framing services
With an expert team of professional picture framers that use the state-of-art technology and machines to ensure that the framing is done completely as per your need. We do our entire picture framing that fits your budget in-house. With over 20 years in the framing industry, we are one of the leading Boca Raton picture framers that you can depend upon. Creatively using Plexiglas frames, we can frame a range of products ranging from delicate and expensive porcelain figurines to limited edition posters and photographs.
We even do sculptures, so if you have something that you need to get framed, call us or visit our store. One of our trained experts would be able to assist you with your customized framing procedures. For queries and questions related to prices and picture framing, please give us a call or schedule an appointment. You may even come and visit our store to see the well-stocked inventory of over 2000 frames.